ADVANTAGE AWARDS AND ENGRAVING, LLC 
Pickleball Awards are HERE!
Check our NEW regular hours
Monday thru Friday – 10 AM to 5 PM
Saturday 9 AM to 1 PM
We really like having a two day weekend, but we understand you need us on the weekends!
Sports Uniforms are available, now.  We use Augusta Sportswear Brands, Sanmar and other supply companies.  And, yes, we can add names and numbers to jerseys.
https://www.augustasportswear.com/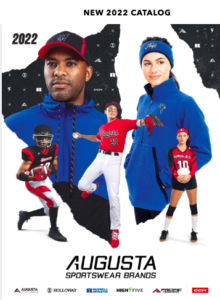 ALSO – WE NOW HAVE A DIRECT LINE TO ALLISON AT OUR APPAREL STORE FOR SHIRTS, JACKETS, AND EMBROIDERY.
Custom Shirts and embroidery.
We also just purchased a state of the art CAP Press.  We can now add foam, textured, embroidered patches and more to all kinds of caps, right here in the store, and save you a LOT of money.
240-749-8169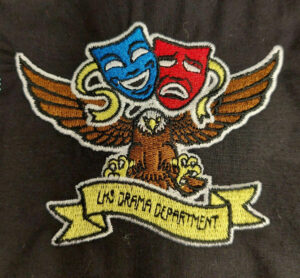 It has been our pleasure to serve your needs  We have added Apparel to our business and purchased a Direct to Film Printer to compete with any printing process.  We hope you will give it a try for shirts, jackets, swears and even caps.  Take a look at what we've been making!
We have been grateful for our return customers and new customers.  Corporate Awards, Custom Medals, Trophies and Cups, Laser Engraving,  Tumbler and Mug Engraving has been the center of our business.  Thank you all. 

Note that the supply chain affects our ability to provide all items on our website and price changes are beyond our control. 

We reserve the right to either change prices as necessary or not provide the item(s).
If you like what we did, or the production time, help us out!  We don't have surveys and email spam, so we appreciate your reviews.
Go to the bottom of the page for contact information and Google Maps!

Embroidery and Heat Transfer is HERE!
And now out new exciting announcement:  T-shirts and Apparel combined with out heat transfer technology.  T-shirts, team wear, scrubs, jerseys, jackets, sweats are all products that work well with heat transfers.  BEST of all is that they are easy to change information with.    And save you money.  We have the SG54, which prints about 10 times as fast.  BAM!  Give us a try.
Our new link to our supplier, SanMar, with thousands of selections is https://www.companycasuals.com/advantageawards/b.jsp?id=125&ln=125

410-724-8222 – Open M-F 9-5; Sat 9-1
Laser Engraving – Trophies – UV Color Printing – Promotional Items
Yes, we CAN laser engrave your Yeti, Tervis, Corkcicle, Rtic, Hydro Flask, and other powder coated tumblers here, and add images!
And YES, we sell Polar Camels (every model and color) and we have some Rtics in stock. 
Hours:  Mon-Fri 9 AM to 5 PM
Saturday 9 AM -1 PM
Local and AWESOME!
REVIEW: Advantage Trophy
Hi, just wanted to say thanks for the great work. Phillip was very good at knowing what we needed
and was easy to work with. We appreciate the great job he did on my son Mikes's Lacrosse award.
Guy is really talented and knows what you are looking for. We will be meeting with our son and giving
him this for his birthday……Something I should have done years ago. Thanks Again

Mike Giddings Sr.

This box is awesome. Great craftsmanship and great price!!!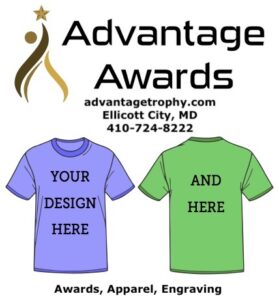 Steven Wampler and Phillip Wampler at

410-724-8222
advantagetrophy@gmail.com
Engraving on Awards and Trophies bought at Advantage Trophy is included in the price.
Shipping is not included in the price.  Call or email us for shipping costs. 
Shipping usually starts at $11.00.
Find us on Twitter, Instagram and Facebook

Our New Apparel Supplier
Crystal-DCorporateCrystal
---
HCPSS customers will receive a 5% discount if payment is provided at time of pickup.
---