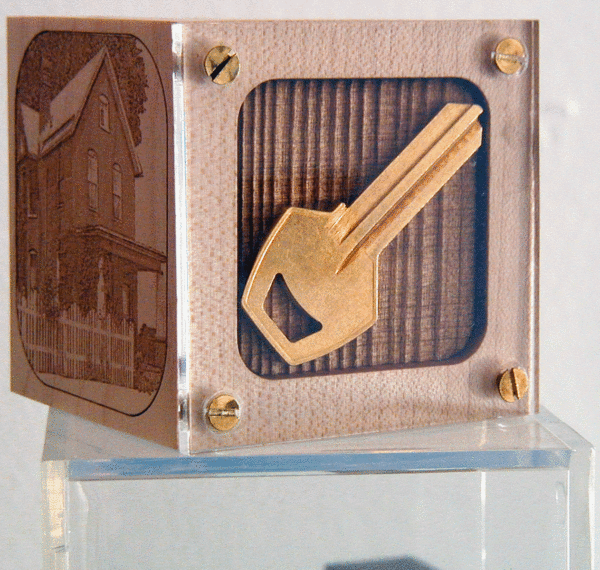 Realtors should take a look at Advantage Trophy's new offerings made just for you. I've bought and sold 4 houses in my life and each time, my realtor would make a gift that was either disposable, such as a fruit basket or flowers, or forgotten, such as…well, I don't remember!
I offer items that will be on display in their homes and remind them of who helped them buy their house. When they move, as they usually do, that item will have your info on it to remind them.
Our first offering is the Whiskey/Wine Box. These are hand made by Maryland woodworkers from Maryland Wood. The Concept Wood Design is made of repurposed walnut and oak, available in two sizes and is hinged. We engrave the cover, a decanter and two glasses. You may remove the decanter and add your own wine or whiskey. The short box is $99 and the tall box is $109.
The "George" is a slider cover design and is stained brown. It's one size right now and is $99.
We also offer cutting boards for the kitchen, engraved with the family name, date of residence and a logo.
Both can have your Realtor Logo and name tastefully added to the corner.
Next is the Realtor Cube by Milestone Cube. 4 Sides are engraved with information to remind them of the Closing/Settlement Date, a photo of the house laser engraved, Realtor Logo and a key space. The name and a thank you from the realtor complete the cube. $75 for an item that will be kept for the life of the house.
We have tons of promotional items, and welcome you to view them. Come look! Christmas ornaments customized for your business, pins and anything you need – Look under Simba!