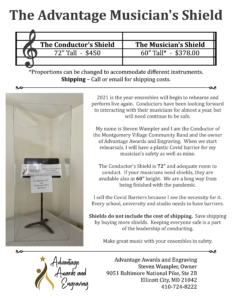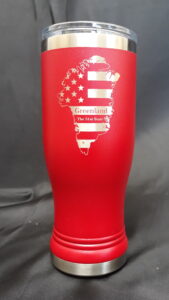 And here is where the problems start occurring for engraving. . When a flaw occurs in the process, the powder coater applies a "little extra" to the surface, making a
uneven
area in the cup. Some of the cheaper brands are not consistent in their coating, creating uneven surfaces.
Now we have to talk about the laser process itself. Laser machines are rated by wattage. Advantage Trophy has a 40 watt Epilog Helix which has its specific settings. Speed and power are the two raster settings that make images. If you are burning too hot, you can speed up the laser, or use less power. Experience tells you which one will work best.
The tumbler is placed on a rotation device that slowly turns the cup while the laser moves back and forth across the surface. The distance is also a factor because of the laser's focus. So if a surface is curved, it will lose focus somewhere across the surface.
If you are following this so far, you can guess what happens to a tumbler that has different depths or layers of powder coating. If it is too thin, the laser burns the surface and the edges of the image, ruining the burn. If it is too thin, the laser does not cut to the surface, meaning the stainless steel is not exposed. Either way, the tumbler is ruined and goes on the useless pile.
If the cup is etched properly, there will be a residue left on the surface. In our practice, we use either L.A. Awesome or Zep 505. We turn the tumblers upside down and spray the area with the soap, wait 60-120 seconds and use Magic Eraser type cleaning sponges bought in bulk while running under warm water. I make sure I rinse the inside as well, so the soap residue is removed.
Afterwards, I place them on a table and take a rag or towel and dry them off to there is no soap residue to mar the surface or eat away at the coating if they are not used right away. In our last run, not a single tumbler was flawed – they were all Yeti ramblers. Adding handles makes for a lopsided turn and they will often lurch while turning and ruin the cup. If my shop was better ventilated, I would strip them and Cermark them.
That ends my discourse on powder coatings on tumblers. The best brands tend to be those with the most consistent powder coatings. People come into the store talking about how long thier Yeti, or Ozark, or Rtic, Ozark, MEWA, etc. will keep their drink hot or cold, yet they usually finish it in an hour or two at the most! Our biggest supplier sells Polar Camels and they seem to do the same thing for a little over half the price.
We make about the same if we sell the tumbler or if we just engrave. Next, I'll give a simple explanation of "Vacuum Sealed" and how it keeps temperatures the same for a long period of time.

Many people know that I have played poker since I was 12 and that I have played in WSOP Events in Las Vegas, including the 2010 Final Event. I also am a Poker Dealer, and so is Phillip. Phillip dealt poker at Maryland Live! but didn't care for it. As a teacher, I dealt a few underground games, but the risk of being arrested as a teacher was not worth the extra pay. I considered becoming a dealer after retirement, but now I own Advantage Trophy and Engraving!
But since 2010, I have dealt for several casino companies around the beltway, and as I got busy, I declined work from most and settled of dealing for my friend, Steve Phillips of Show Biz Productions, Inc. He offers Casino Parties, poker tournaments and other events and has over 35 years experience. Check out Steve's website at: https://showbizproductions.com/
And that's why you see me offering poker equipment. I've played thousands of games in America, the Caribbean, France, England and Ireland, as well as cruise line poker and have seen a lot of ways to do it.
If you are in need of a Casino Night and Awards, combine services! Steve and I will give go great service and a great deal. Tell Steve that Steve sent you. Click here for Show Biz